2022: Wedding Trends Every Bride and Groom Should Know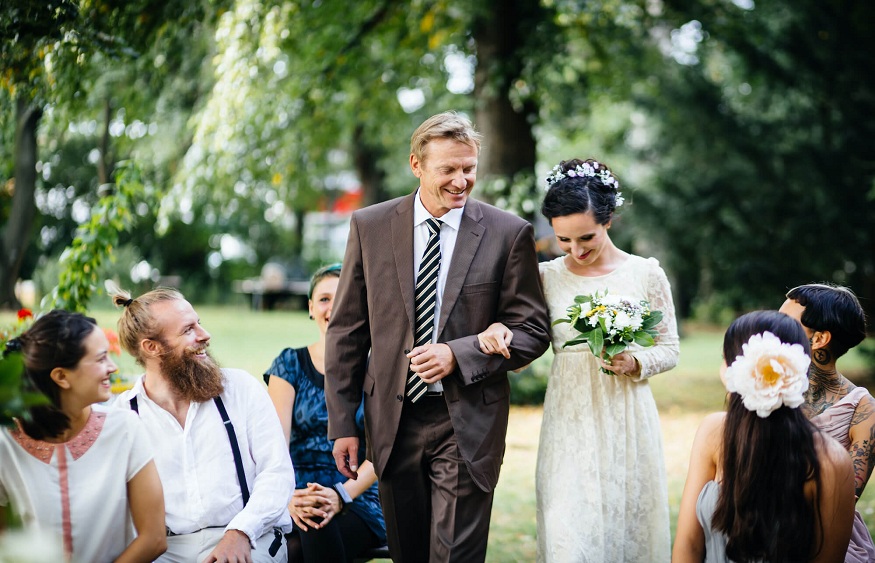 The experts are unanimous: marriages are back in force. Despite the current uncertainty surrounding COVID-19, the world is ready to celebrate and come together. We asked experts about the top wedding trends for 2022, ranging from plan flexibility to diamonds to quirky flower arrangements.
Read also: Marriage, The inspiration guide
Big parties and long wedding weekends are in order. Multi-day celebrations have always been a great way for families to get together and for the couple to spend time with all of their guests, which is even more enjoyable today. As a result, guest lists are growing, as the couples haven't seen most of their friends and family in two years. Marcy Blum , one of New York's top wedding planners, says, "All the weddings we've done in the fall, as well as the ones we have coming up in the spring, have very large guest lists."
Micaela Erlanger , celebrity and wedding stylist, agrees. The majority of its customers plan "non-standard" parties that last three to five days. Marcy Blum points out that organizing a long weekend can be tricky, as the wedding itself should remain the central event, even if it happens to be in the middle of the stay. "A multi-day wedding celebration needs to be planned carefully so that the guests find it enjoyable and the wedding itself is the jewel at the heart of the festivities," she says.
In addition to newly engaged couples and couples who have postponed their wedding, couples who have had intimate ceremonies, or "mini-monies," as Micaela Erlanger calls them, are planning grand, multi-day celebrations in 2022 with their families. This is exactly the case of Micaela! She married in a small committee last year and is planning a fabulous celebration this year. "The ability to do it in two parts is really great. My fiancé and I had a special, intimate time to ourselves, she said. Was it disappointing not having all the people we love around us? Certainly ! But however, we will be able to organize the celebration of our dreams with those we love in the most beautiful and grand way.
 lot of people have taken advantage of the time and perspective afforded by the enforced coronavirus 'pause' to reevaluate what's most important in their lives," says Dakotah Terrace, founder of Jardinière Events in Hilton Head, South Carolina. . We see this lucidity reflected in the design of our couples' marriages. Traditions are always important, but every detail of the day is chosen with intention.
Marcy Blum agrees, especially when it comes to food and refreshments. Its customers are increasingly offering specific choices, including well-inspired vegetarian or vegan dishes, as well as an interesting selection of non-alcoholic drinks. Shelley Brown sees some personal and fun touches, like the couple's favorite foods when they were kids.
Micaela Erlanger sees it not only in ceremonies and events, but also in the choice of wardrobes. His brides look for unique models from trendy fashion designers and thus order their custom-made dress. They customize bridesmaids' dresses, rather than resorting to traditional bridesmaids' dress manufacturers. "Many brands offer a kind of demi-couture… where you can customize silhouettes and color ranges." She notes that Markarian, Brock Collection and Zimmerman are favorite brands for her hip customers. Shelley Brown is also seeing more and more whimsy in bridal processions, notably through mismatched bridesmaid dresses.
Let's not forget the groom!
Even the bride and groom are treating themselves to a touch of sparkle on their big day as part of the wedding trends for 2022. Shelley Brown says: "Diamond encrusted wedding bands and engagement rings, watches and lapel pins are all very trendy for the groom who wants a more glamorous look on his wedding day. Even men who prefer plain wedding bands find ways to add diamonds to their wedding attire. "Men's jewelry on the wedding day goes far beyond the wedding ring," says Micaela Erlanger, who sees more and more diamond cufflinks, stud earrings and lapel pins. In her Forevermark collection, she even designed a simple ring with a hidden diamond inside that adds a touch of understated distinction.
In the past, brides have sometimes, if not frequently, been overlooked in the planning stages. In the spirit of equality, some planners and designers ensure that the name of the groom appears on all documents and that instead of just referring to the bride, they refer to the couple. The Dakotah Terrace company goes so far as to drop the traditional terms of marriage in its contracts and instead use the more all-encompassing term