Liquid Lipsticks: Your Makeup Stash is Incomplete Without These!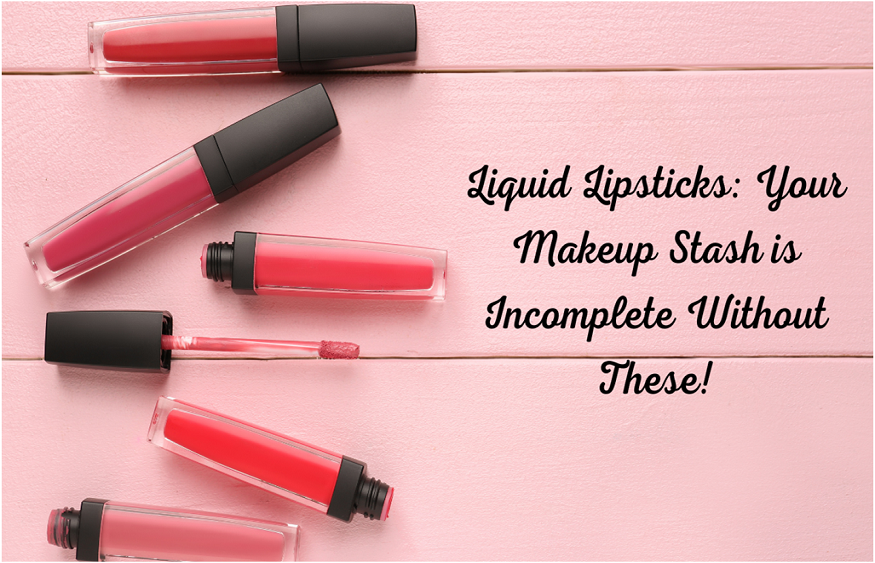 Liquid lipsticks are so trendy right now that they seem to have been digging into them for a long time. Liquid lipsticks are in that pattern and are suitable for any look if you wear them flawlessly and cherry on the cake? These are available in exceptional shades.
So, if you plan to add liquid lipsticks to your shopping cart, you should consider the following things. What you'll love about liquid lipstick?
Drop Lip Liner Already!
If you are concerned about messy lipstick, liquid lipstick will make it easier to draw a clear lip line. Yes, it glides like a gloss. This is a cue to put the lip liner to rest!
Touch-Ups: What are They?
It takes a little while to blend on the lips. But once you have blended it, no more after-lunch touch-up breaks. Instead, get ready to pout all day long.
Your BFF a.k.a. Transfer-Proof
Liquid lipsticks are long-lasting and non-slip. Drink as much as you like. Avoid staining both the cocktail glass and the baby's lips. 
Unprecedented Colour Payoff
You know the pain of swiping bullet sticks across your lips? Liquid lipstick formulas are highly pigmented, just enough to achieve an opaque look.
Irresistibly Buildable
Want your shades to look stronger? Just apply a second layer or a third layer on your lips. Need a lighter finish for a softer everyday look? Just dab it with a tissue, and you're good to go. All this in just one liquid lipstick colour!
Intimidating, isn't it? It shouldn't be, but it can be. Here's a quick guide to address any questions you may have about how to apply liquid lipstick set correctly.
How to Apply Liquid Lipstick?
Before reaching for liquid lipstick, exfoliate your lips with a lip scrub. Get rid of all the flakes before you apply liquid lipstick.

Prep your lips with a lip primer or a

liquid lip gloss

. This helps create a smooth base, so the product doesn't settle into fine lines or cling to dry patches.

Choose a liquid lipstick applicator and follow the contours of your mouth, working from the centre of your upper lip outwards.

Then slide the applicator over your lower lip and apply a thin layer. 

For a bold look, apply a second coat of 

long-lasting liquid lipstick

 after the first coat dries.
You can never have too many lipsticks in your stash, so here's a roundup of the best liquid lipsticks that will make your life much easier.
Best Liquid Lipstick Colours Out There
Nude Liquid Lipstick
Chambord Extreme Wear Transfer-proof Liquid Lipstick – 485 Creamy enough to eat. The colour payoff is excellent as it is enriched with concentrated pigments that give lips great colour with a creamy matte finish. Plus, the doe-foot applicator makes it easy to swipe the shade in one stroke. PS- You can avoid the dreaded breakouts with this lip stain.
Brown Liquid Lipstick
Sugar Smudge Me Not Liquid Lipstick – 35 Radiant Currant. This lip stain is a tribute to women who aren't afraid to go dark. SUGAR Smudge Me Not Liquid Lipstick – 35 Radiant Currant will help you recreate that "ready to go back to the 90s" look we sometimes crave. It feels soft on the lips despite being heavily pigmented, and the colour stays long after a date night.
Red Liquid Lipstick
Maybelline New York Super Stay Matte Ink Liquid Lipstick – Ambitious This isn't going anywhere. Once worn, life is nothing short of wild. One swipe provides full coverage, dries to a firm matte yet does not feel harsh on the lips. It's in a league of its own because you can't beat it. 
Pink Liquid Lipstick
Wanting to start somewhere? Lakme Forever Matte Liquid Lip Color – Fuschia Chic comes with a small specially designed applicator that is easy to operate and provides precise application. It's simple! The formula has plenty of richness and dries to a comfortable matte finish. The only limitation? Once set, it won't move even an inch.
How to Remove Liquid Lipstick, Especially if It's Matte?
Now that you know how to apply the liquid lipstick let's take a closer look at how to remove them. However, removing these waterproof liquid lipsticks can be arduous as their long-wearing formulas don't move easily.
But aggressively rubbing your lips is not the solution. Instead, you need a more effective and gentler way to remove matte lipstick.
Matte liquid lipstick

s are often very drying, and you cannot rely on water or wet wipes to remove the lipstick. Instead, soak a cotton swab in a cream or oil-based cleanser, apply it to your lips, and leave it on for a few minutes.

Use the clean side of a cotton swab to wipe off the lipstick gently. Cotton swabs are an effective tool for removing lipstick as they do not smudge or spread the colour around your lips.

If you still have colour on your lips, repeat the same steps until it disappears completely. And voila! Afterwards, you will be amazed at how clean and moisturised your pout feels.
If you are not a fan of matte lipsticks, you can also go for glossy liquid lipsticks. So what is holding you back? One or two shades are too few, so indulge your lips with the best liquid lip colours. So, stock up on more liquid lipsticks by visiting Health & Glow!